Explore The Village Coorparoo
Stay in the area you love at The Village Coorparoo
At The Village Coorparoo, you will join a close-knit community of residents who are enjoying award-winning retirement within architect-designed apartments and stunning penthouses, and surroundings that are second to none in terms of aesthetics, location, quality and facilities.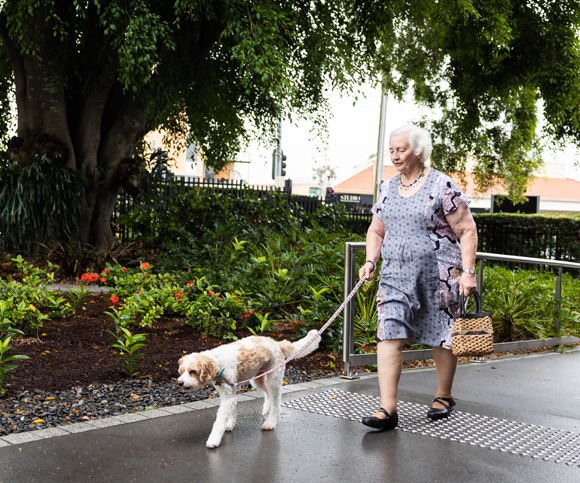 Our Local Area
Life at The Village Coorparoo combines all the benefits of city living with the relaxed atmosphere of a familiar local area, including access to public transport, sporting clubs, medical centres and hospitals. Our Village is conveniently located just 4.5kms to CBD restaurants and retail therapy plus the culture and entertainment precincts of Southbank and the West End.
Our Lifestyle
One of the joys of living in a retirement village is being surrounded by like-minded people and building new friendships. The vibrancy of life in The Village Coorparoo is apparent from the moment you arrive. The social side of life is a big part of what gives our Village its unique character, and our residents share that they feel like they have found themselves again thanks to joining a community of like-minded people.
Village Facilities
Showcasing style & sophistication, our community spaces offer versatility for a variety of resident activities. The community centre and cafe are the heart and soul of our Village, and our facilities such as our heated swimming pool, club lounge, big screen cinema, resident physiotherapist, hair salon and more, allow you to live your best retirement lifestyle without having to leave home.
Apartment Sales
With everything right on your doorstep, you can spend more time enjoying time in your apartment. Stylish and modern, you'll have flexibility and freedom without the cost and effort of maintaining a large home, with quality appliances and fixtures, plenty of storage, a spacious and thoughtfully designed floorplan, with the security of a gated community.
Our Care Partner
To support you to continue to live independently in your apartment, our residents can access government-subsidised home care packages and other community services, if required.
Contact Us
Would you like to get in touch to learn more, request a brochure or make a time to visit, get in touch today!
6 reasons to call The Village Coorparoo home
Pet Friendly
Over 65s Community
Family Owned & Operated
Fully Equipped Seniors Gym
Home Care & Support Available
Bowling Green
Healthy, happy and connected. The Village Coorparoo offers plenty of ways to keep your body and mind active.
"We absolutely love it. We have three kids, a son, and two daughters, and they're all very enthusiastic. They encouraged us to take up the option to come here."
Bruce and Carolyn McLaughlin
Explore The Village Coorparoo
Don't Retire for Good, Retire for Great!