Explore The Village Yeronga
Stay in the area you love at The Village Yeronga
At The
Village Yeronga
, you will join a close-knit community of residents who are enjoying award-winning retirement within architect-designed apartments and stunning penthouses, and surroundings that are second to none in terms of aesthetics, location, quality and facilities.
Our Local Area
Nestled amidst an abundance of greenery, The Village Yeronga is perfectly positioned. Surrounded by parkland & flat walking paths allows you to indulge in the tranquillity of the natural surrounds. Only 5kms from the cosmopolitan pockets of the CBD, The Village Yeronga offers easy access to health services, shopping precincts & entertainment hubs. Peppered with greenery, Yeronga is renowned for its relaxed lifestyle with parklands being the local highlight.
Our Lifestyle
One of the joys of living in a retirement village is being surrounded by like-minded people and building new friendships. The vibrancy of life in The Village Yeronga is apparent from the moment you arrive. The social side of life is a big part of what gives our Village its unique character, and our residents share that they feel like they have found themselves again thanks to joining a community of like-minded people.
Village Facilities
Showcasing style & sophistication, our community spaces offer versatility for a variety of resident activities. The community centre and cafe are the heart and soul of our Village, and our facilities such as a health and wellness centre, heated swimming pool, hair and beauty salon, rooms for visiting allied health professionals and more, allow you to live your best retirement lifestyle without having to leave home.
Apartments Available
You could be forgiven for thinking our Village is all about the view with the outlook from most apartments taking in sweeping panoramas across parklands or to the CBD. But your apartment offers much more than that with quality finishes and a thoughtful design.
Our Care Partner
To support you to continue to live independently in your apartment, our residents can access government-subsidised home care packages and other community services, if required.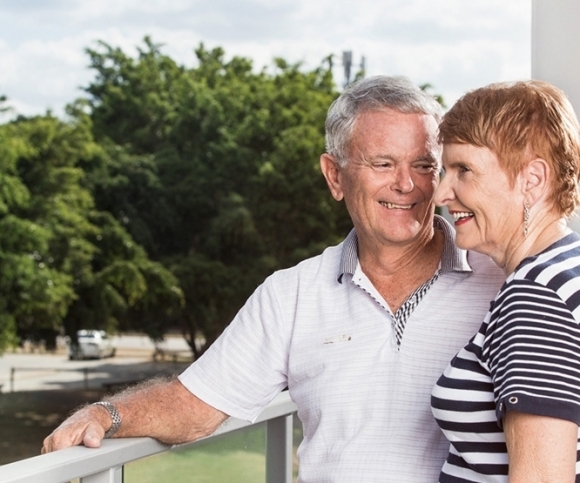 Contact Us
Would you like to get in touch to learn more, request a brochure or make a time to visit, get in touch today!
6 reasons to call The Village Yeronga home
Pet friendly
Over 65s Community
Family Owned & Operated
Fully Equipped Seniors Gym
Home Care & Support Available
Bowling Green
Healthy, happy and connected. The Village Yeronga offers plenty of ways to keep your body and mind active.
"The village is privately owned and they take notice of you. The owners cooked us a barbecue recently and mixed with everyone afterward. There's a real family feel here."
Lorraine
"We looked into every retirement place around but we didn't consider buying until we saw this one. It just suited us perfectly. With the gardening and general maintenance taken care of we can just shut the door and go whenever we please."
Clinton Condon
"For 30 odd years, we had a caravan. We went camping every Easter. Caravan people all have something in common: they love to have a drink and a chat in the evening. It's like that here."
Bruce and Carolyn McLaughlin
Explore The Village Yeronga
Don't Retire for Good, Retire for Great!